Published on 25th August 2022
A call to action – Sector Measurement Inclusion Framework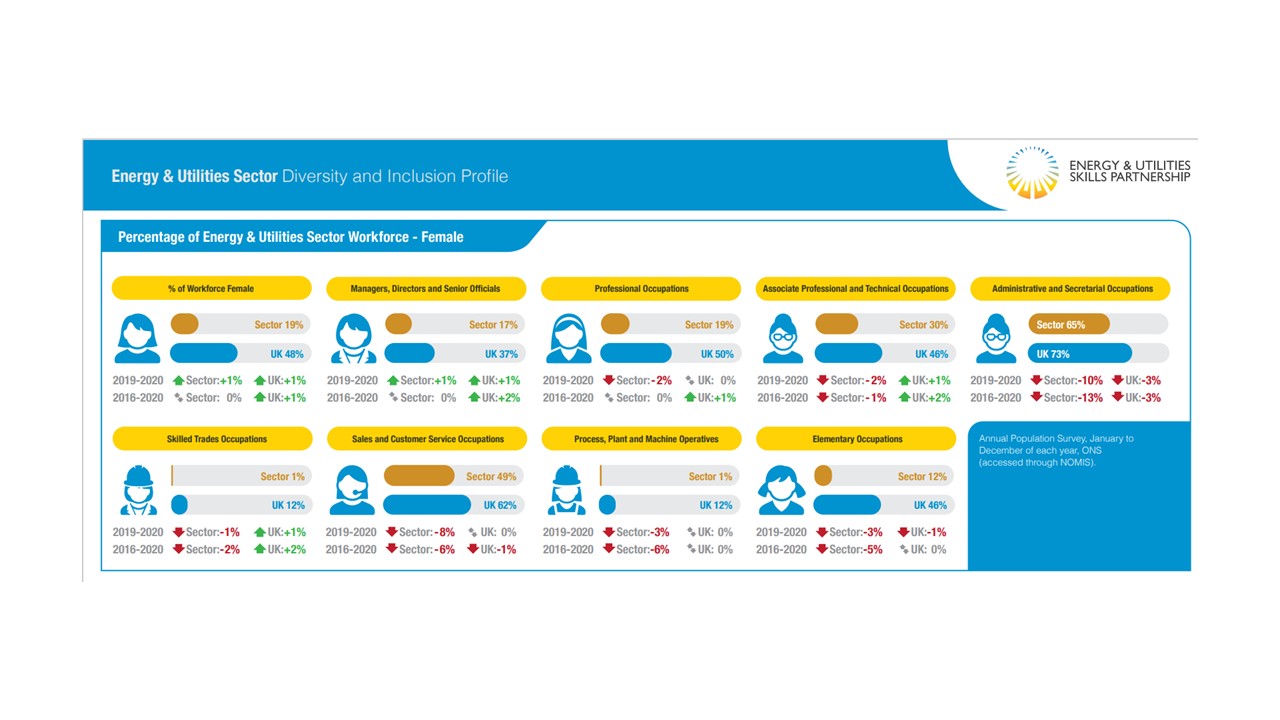 Energy & Utility Skills' latest sector demographics published in June show women make up just 19% of the sector's workforce versus a UK workforce of 48%.  This reduces further at managerial and senior management levels to 17% and significantly women make up 19% of professional occupations (vs 50%) and just 1% of Skilled Trade Occupations.
 While the demographics show the overall picture, the sector's inclusion measurement framework can identify where the specific diversity challenges lie and the actions we can take to really make progress, both as individual organisations and as a sector.
Now entering its third year, the framework has provided key insights including identifying that women are consistently successful when applying for roles, while the numbers applying for roles remain significantly behind their male counterparts.  As a sector and through WUN, we can explore more closely what is stopping women from applying for roles.
The framework measures diversity across the employment lifecycle from attraction and recruitment through to development, progression and retention.  It also examines the makeup of the sector's leadership teams and this year will extend its research into leading inclusion to include direct reports to CEOs.  It will also explore their diversity journeys to becoming sector leaders.
Sector call to action
By 2030, the sector needs to fill 277,000 new roles to maintain our industries, to meet growing demand and the net zero and new technology skills demands placed on us.  Attracting, retaining and developing a diverse workforce is critical to filling these vacancies, meeting the skills needs and the sector's commitment to reflect the communities it serves.
With participation open to all sector organisations, the inclusion measurement framework can play a key role in identifying where to focus our efforts to truly change those sector demographics both as individual organisations and as a sector.  It complements the recent research we've undertaken at WUN and can help inform where we focus our work.
Further information:
Free to participate, companies can benchmark their data against the sector, industry (water, power, waste and their supply chains) operating region and organisation size, and for returning participants, results can be tracked year on year.
The data submission window is open from 1 September to 14 October 2022.
A best endeavours approach sector organisations are encouraged to provide the data they can. The greater the insights and the opportunity to focus diversity efforts on the actions that will really shift the data.  The results and supporting report will be published in early 2023.
Louise Parry , WUN Founder and Director of People & Organisational Development, Energy & Utility Skills.